Skip to main content
In Memoriam – Glyn Salton-Cox
The English Department is devastated to announce the death over the New Year of our colleague Glyn Salton-Cox.  To his family, loved ones, and friends here, in his native Britain, and throughout the world, we offer our deepest and most heartfelt condolences.  Glyn was a brilliant scholar, a very popular teacher, and the kindest of colleagues.
The Department of English invites you to a commemoration of our colleague Glyn Salton-Cox on Friday, March 3d, 2023.
We will gather in the Faculty Club's Betty Elings Wells Pavilion at 3:00 pm and then move to the Terrace at 4:00 pm for a reception. Please let us know of any accessibility requests.
2023.02
Whitman Possessed
Poetry, Sexuality, and Popular Authority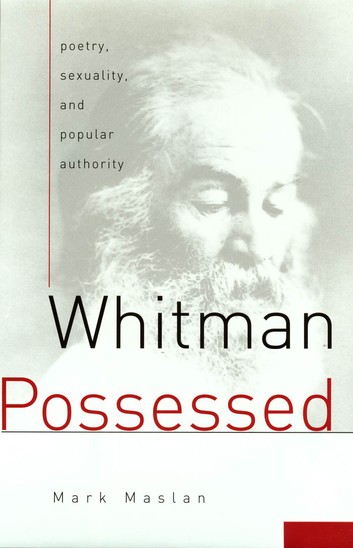 Whitman has long been more than a celebrated American author. He has become a kind of hero, whose poetry vindicates beliefs not only about poetry but also about sexuality and power. In Whitman Possessed: Poetry, Sexuality, and Popular Authority, Mark Maslan presents a challenging theory of Whitman's poetics of possession and his understandings of individual and national identity. By reading his works in relation to nineteenth-century theories of sexual desire, poetic inspiration, and political representation, Maslan argues that the disintegration of individuality in Whitman's texts is not meant to undermine cultural hierarchies, but to make poetic and political authority newly viable.
In particular, Maslan explores the social impact of nineteenth-century sexual hygiene literature on Whitman's works. He argues that Whitman developed his ideas about poetry, sexuality, and authority by responding to a prominent argument that desire subjected male bodies to a penetrating and feminizing force. By identifying poetic inspiration with this erotic dynamic, Whitman imbued his poetic voice with a kind of transformative power. Whitman aligned his poetry with an impartial authority hard to find elsewhere and inclined his work as a poet to speak for the voiceless, for the masses, and for an entire nation.
Purchase
Citation Information
Full Title:

Whitman Possessed: Poetry, Sexuality, and Popular Authority

City of Publication:

Baltimore, MD

Publisher:

Johns Hopkins University Press

Publication Date:

2000