Skip to main content
In Memoriam – Glyn Salton-Cox
The English Department is devastated to announce the death over the New Year of our colleague Glyn Salton-Cox.  To his family, loved ones, and friends here, in his native Britain, and throughout the world, we offer our deepest and most heartfelt condolences.  Glyn was a brilliant scholar, a very popular teacher, and the kindest of colleagues.
The Department of English invites you to a commemoration of our colleague Glyn Salton-Cox on Friday, March 3d, 2023.
We will gather in the Faculty Club's Betty Elings Wells Pavilion at 3:00 pm and then move to the Terrace at 4:00 pm for a reception. Please let us know of any accessibility requests.
2023.02
Giles Gunn
Distinguished Professor of English and of Global Studies
Mailing Address:

English Department UC Santa Barbara Santa Barbara, CA 93106-3170
Education:
Ph.D., University of Chicago, 1967
Giles Gunn is Distinguished Professor of English (Chair, 1993-97) and of Global Studies (Chair, 2005-13) at the University of California Santa Barbara. A graduate of Amherst College (1959), he received his M.A. and Ph.D. from the University of Chicago (1963;1967) and has held appointments principally at three institutions: the University of Chicago in both the Divinity School and, from 1972, the Department of English (1966-1974); the University of North Carolina, Chapel Hill in both Religious Studies and American Studies (1974-1985); and the University of California, Santa Barbara in English and, from 1999, in Global Studies (l985 to the present). He has also held shorter appointments at Eckerd College (1965-66), Stanford University (1973), and the University of Florida (1984-85). In addition, he has held appointments as the Benedict Distinguished Visiting Professor of Religion at Carlton College (1977), the William R. Kenan Visiting Distinguished Professor of the Humanities at the College of William and Mary (1983-84), Humanities Distinguished Visiting Professor at the University of Colorado, Boulder (1989), and Eric Voegelin Distnguished Visiting Professor of the Human Sciences at Ludwig Maximillian University, Munich (1994-95). He also served in 2000-01 as a Phi Beta Kappa Visiting Distinguished Lecturer. Giles Gunn is the author of seven books, the editor of thirteen volumes, and has written over 200 articles and reviews. His new book entitled The Pragmatist Turn: Religion, the Enlightenment, and the Formation of American Literature will be published by the University of Virginia Press in Fall 2017.
He has held various fellowships and grants, including a Edward John Noble Leadership Grant (1959-64), an Amherst-Dochisha Fellowship (1960-61), a Kent Fellowship (1963-65), a John Simon Guggenheim Fellowship (1977-78), a National Endowment for the Humanities Fellowship (1990), a University of California President's Research Fellowship in the Humanities (1990), and a Rockefeller Foundation Bellagio Fellowship (2010). He has been a director of 7 summer seminars for school teachers sponsored by the National Endowment for the Humanities, 3 summer seminars for college and university teachers sponsored by the National Endowment for the Humanities, and 2 summer institutes for international professors of American literature sponsored by the United States Information Agency.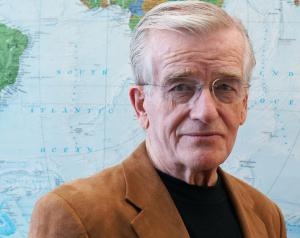 Office:

SSMS 2017

Mailing Address:

English Department UC Santa Barbara Santa Barbara, CA 93106-3170
Courses Taught
Quarter

Course #

Title