Skip to main content
Welcome to the new website!
Welcome to the new-and-improved English department website!
Please "pardon our dust" as a few new pages remain under construction:
People > In Memoriam and  People > PhD Alumni
Research > Projects
Our search function is also being refined – putting quotation marks around your query "like this" will get you the best results.
Please email web-editor@english.ucsb.edu with any questions about site content or navigation (expect replies within one week of inquiry).
Maite Urcaregui
PhD Alumna
Email:

murcaregui@ucsb.edu

Mailing Address:

English Department UC Santa Barbara Santa Barbara, CA 93106-3170
Education:
M.A., English, The University of Colorado, Boulder (2016)
B.A., English, magna cum laude, Gonzaga University (2013)
Maite Urcaregui is a doctoral candidate in the Department of English at the University of California, Santa Barbara. She is also in the graduate emphasis programs in the Department of Black Studies and the Department of Feminist Studies. She received her Master of Arts in English with a certificate in Women and Gender Studies from the University of Colorado, Boulder. Maite studies twentieth- and twenty-first-century American literature and comics through an interdisciplinary framework that draws from theories of gender, race, sexuality, and performance. Her current research uses a queer formalist approach to investigate how multiethnic American authors strategically employ visual elements in their literature to navigate and critique the visual politics of race, gender, and sexuality, particularly as they demarcate who is seen as "citizen." Her publications include "'A Revelation Not of the Flesh, but of the Mind.': Performing Queer Textuality in Alison Bechdel's Fun Home," forthcoming in The Routledge Companion to Gender and Sexuality in Comic Book Studies, edited by Frederick Luis Aldama, and  "Intersectional Feminism in Bitch Planet: Moving Comics, Fandom, and Activism Beyond the Page" in Gender and the Superhero Narrative (University Press of Mississippi, 2018).
Research Areas
American Literature
Genders and Sexualities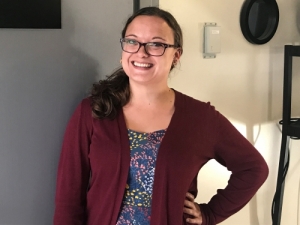 Office:

South Hall 2432-J

Email:

murcaregui@ucsb.edu

Mailing Address:

English Department UC Santa Barbara Santa Barbara, CA 93106-3170