Skip to main content
In Memoriam – Glyn Salton-Cox
The English Department is devastated to announce the death over the New Year of our colleague Glyn Salton-Cox.  To his family, loved ones, and friends here, in his native Britain, and throughout the world, we offer our deepest and most heartfelt condolences.  Glyn was a brilliant scholar, a very popular teacher, and the kindest of colleagues.
The Department of English invites you to a commemoration of our colleague Glyn Salton-Cox on Friday, March 3d, 2023.
We will gather in the Faculty Club's Betty Elings Wells Pavilion at 3:00 pm and then move to the Terrace at 4:00 pm for a reception. Please let us know of any accessibility requests.
2023.02
Forgetting Fathers:
Untold Stories from an Orphaned Past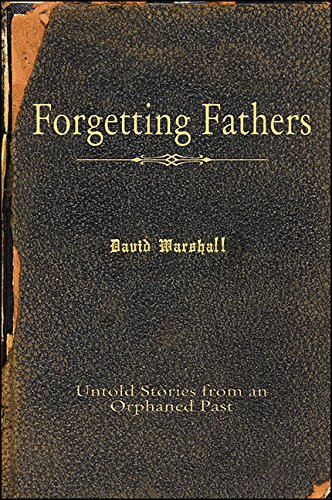 In Forgetting Fathers, David Marshall weaves together the stories of his grandfather and great-grandfather with his own quest to solve the mystery of his family's past. Beginning as a search for his lost family name, Marshall attempts to understand the origins of his grandfather, who spent part of his childhood in the Hebrew Orphan Asylum of the City of New York. He also reconstructs the life and death of his great-grandfather, a Russian immigrant tailor who died at age thirty-six in a private sanitarium dedicated to the treatment of mental and nervous diseases. The narrative becomes a detective story that reflects on our ambivalence about origins, the relation between history and mourning, and the compulsion to search for life stories. Forgetting Fathers combines historical accounts based on records, reports, and public documents with autobiographical reflections and speculations. Included throughout are photographs, newspaper clippings, and facsimiles of original documents that provide a sense of both the texture of the times and the fabric of archival and genealogical research.
"One of our most gifted literary scholars, David Marshall in Forgetting Fathers has written an un-forgettable detective story born in a deeply felt, personal quest to solve the mystery of his grandfather's name. The result is not only an absorbing read; it is a profound testament to the human impulse to know who we are and from whence we came. For Marshall, that secret was locked a century ago in the Hebrew Orphan Asylum of the City of New York, and in his odyssey to find—and turn—the key, Marshall becomes the living proof of Eudora Welty's timeless line, 'Remembering is done through the blood.'" — Henry Louis Gates Jr., Alphonse Fletcher University Professor, Harvard University
"Forgetting Fathers is a truly remarkable piece of work. The pertinacity of Marshall as a reader, as a critic, as a theorist, impels him on his quest to learn all that he can about his past. The book is riveting." — Jonathan Freedman, coeditor of Jewish in America
"From the Hebrew Orphan Asylum to the history of New York tailors, David Marshall weaves his Jewish family memoir with gripping details. An enlightening contribution to the growing body of research on the lives and institutions of twentieth- century Jewish immigrants." — Mikhal Dekel, author of The Universal Jew: Masculinity, Modernity, and the Zionist Moment
Purchase
Citation Information
Full Title:

Forgetting Fathers: Untold Stories from an Orphaned Past

City of Publication:

Albany

Publisher:

SUNY Press

Publication Date:

2015