Skip to main content
In Memoriam – Glyn Salton-Cox
The English Department is devastated to announce the death over the New Year of our colleague Glyn Salton-Cox.  To his family, loved ones, and friends here, in his native Britain, and throughout the world, we offer our deepest and most heartfelt condolences.  Glyn was a brilliant scholar, a very popular teacher, and the kindest of colleagues.
The Department of English invites you to a commemoration of our colleague Glyn Salton-Cox on Friday, March 3d, 2023.
We will gather in the Faculty Club's Betty Elings Wells Pavilion at 3:00 pm and then move to the Terrace at 4:00 pm for a reception. Please let us know of any accessibility requests.
2023.02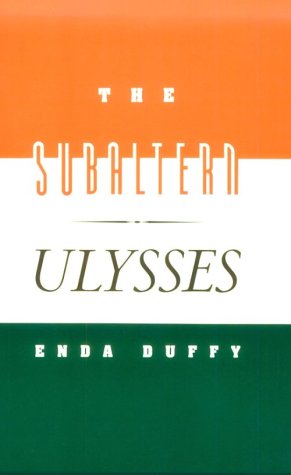 How might an IRA bomb and James Joyce's Ulysses have anything in common? Could this masterpiece of modernism, written at the violent moment of Ireland's national emergence, actually be the first postcolonial novel? Exploring the relation of Ulysses to the colony in which it is set, and to the nation being born as the book was written, Enda Duffy uncovers a postcolonial modernism and in so doing traces another unsuspected strain within the one-time critical monolith. In the years between 1914 and 1921, as Joyce was composing his text, Ireland became the first colony of the British Empire to gain its independence in this century after a violent anticolonial war. Duffy juxtaposes Ulysses with documents and photographs from the archives of both empire and insurgency, as well as with recent postcolonial literary texts, to analyze the political unconscious of subversive strategies, twists on class and gender, that render patriarchal colonialist culture unfamiliar.
Ulysses, Duffy argues, is actually a guerrilla text, and here he shows how Joyce's novel pinpoints colonial regimes of surveillance, mocks imperial stereotypes of the "native," exposes nationalism and other chauvinistic ideologies of "imagined community" as throwbacks to the colonial ethos, and proposes versions of a postcolonial subject. A significant intervention in the massive "Joyce industry" founded on the rhetoric and aesthetics of high modernism, Duffy's insights show us not only Ulysses, but also the origins of postcolonial textuality, in a startling new way. (From publisher)
Purchase
Citation Information
Full Title:

The Subaltern Ulysses

City of Publication:

Minneapolis, MN

Publisher:

University of Minnesota Press

Publication Date:

1994