Skip to main content
In Memoriam – Glyn Salton-Cox
The English Department is devastated to announce the death over the New Year of our colleague Glyn Salton-Cox.  To his family, loved ones, and friends here, in his native Britain, and throughout the world, we offer our deepest and most heartfelt condolences.  Glyn was a brilliant scholar, a very popular teacher, and the kindest of colleagues.
The Department of English invites you to a commemoration of our colleague Glyn Salton-Cox on Friday, March 3d, 2023.
We will gather in the Faculty Club's Betty Elings Wells Pavilion at 3:00 pm and then move to the Terrace at 4:00 pm for a reception. Please let us know of any accessibility requests.
2023.02
Violentologies
Violence, Identity, and Ideology in Latina/o Literature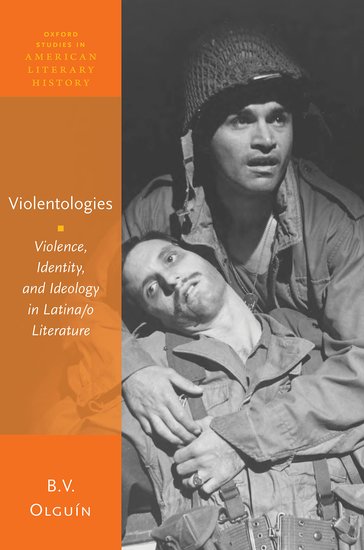 Violentologies: Violence, Identity, and Ideology in Latina/o Literature, explores how various forms of violence undergird a wide range of Latina/o subjectivities, or Latinidades, from 1835 to the present. Drawing upon the Colombian interdisciplinary field of violence studies known as violentología, which examines the transformation of Colombian society during a century of political and interpersonal violence, this book adapts the neologism "violentology" as a heuristic device and epistemic category to map the salience of violence in Latina/o history, life, and culture in the U.S. and globally.
Based on one hundred primary texts and archival documents from an expansive range of Latina/o communities – Chicana/o, Puerto Rican, Cuban American, Dominican American, Salvadoran American, Guatemalan American, and various mixed-heritages and transversal hybridities throughout the world – Violentologies features multiple generations of Latinx combatants, wartime non-combatants, and "peacetime" civilians whose identities and ideologies extend through, and also far beyond, familiar Latinidades. Based on this discrepant archive, Violentologies articulates a contrapuntal assessment of the inchoate, contradictory, and complex range of violence-based Latina/o ontologies and epistemologies, and corresponding negotiations of power, or ideologies, pursuant to an expansive and meta-critical Pan-Latina/o methodology and, ultimately, an anti-identitarian Post-Latina/o paradigm.
Purchase
Citation Information
City of Publication:

Oxford, UK

Publisher:

Oxford University Press

Publication Date:

2020