Skip to main content
In Memoriam – Glyn Salton-Cox
The English Department is devastated to announce the death over the New Year of our colleague Glyn Salton-Cox.  To his family, loved ones, and friends here, in his native Britain, and throughout the world, we offer our deepest and most heartfelt condolences.  Glyn was a brilliant scholar, a very popular teacher, and the kindest of colleagues.
The Department of English invites you to a commemoration of our colleague Glyn Salton-Cox on Friday, March 3d, 2023.
We will gather in the Faculty Club's Betty Elings Wells Pavilion at 3:00 pm and then move to the Terrace at 4:00 pm for a reception. Please let us know of any accessibility requests.
2023.02
Writing to the World
Letters and the Origins of Modern Print Genres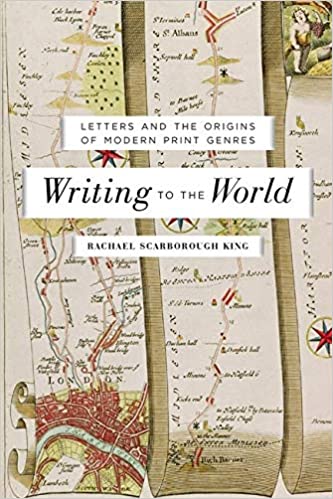 In Writing to the World, Rachael Scarborough King examines the shift from manuscript to print media culture in the long eighteenth century. She introduces the concept of the "bridge genre," which enables such change by transferring existing textual conventions to emerging modes of composition and circulation. She draws on this concept to reveal how four crucial genres that emerged during this time – the newspaper, the periodical, the novel, and the biography – were united by their reliance on letters to accustom readers to these new forms of print media.
King explains that as newspapers, scientific journals, book reviews, and other new genres began to circulate widely, much of their form and content was borrowed from letters, allowing for easier access to these unfamiliar modes of printing and reading texts. Arguing that bridge genres encouraged people to see themselves as connected by networks of communication – as members of what they called "the world" of writing – King combines techniques of genre theory with archival research and literary interpretation, analyzing canonical works such as Addison and Steele's Spectator, Samuel Johnson's Lives of the Poets, and Jane Austen's Northanger Abbey alongside anonymous periodicals and the letters of middle-class housewives.
Purchase
Citation Information
Full Title:

Writing to the World: Letters and the Origins of Modern Print Genres

City of Publication:

Baltimore, MD

Publisher:

Johns Hopkins University Press

Publication Date:

2018