Skip to main content
In Memoriam – Glyn Salton-Cox
The English Department is devastated to announce the death over the New Year of our colleague Glyn Salton-Cox.  To his family, loved ones, and friends here, in his native Britain, and throughout the world, we offer our deepest and most heartfelt condolences.  Glyn was a brilliant scholar, a very popular teacher, and the kindest of colleagues.
The Department of English invites you to a commemoration of our colleague Glyn Salton-Cox on Friday, March 3d, 2023.
We will gather in the Faculty Club's Betty Elings Wells Pavilion at 3:00 pm and then move to the Terrace at 4:00 pm for a reception. Please let us know of any accessibility requests.
2023.02
ACGCC Symposium 2018
Critical Chicanx Masculinities: Reorientations and Futurities
10:00AM – 12:30PM; 7:00PM – 9:00PM
Symposium
UCEN Santa Barbara Harbor Room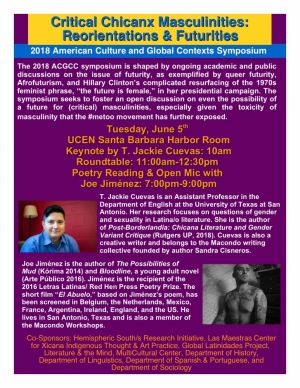 The 2018 ACGCC symposium is shaped by ongoing academic and public discussions on the issue of futurity, as exemplified by queer futurity, Afrofuturism, and Hillary Clinton's complicated resurfacing of the 1970s feminist phrase, "the future is female," in her presidential campaign. The symposium seeks to foster an open discussion on even the possibility of a future for (critical) masculinities, especially given the toxicity of masculinity that the #metoo movement has further exposed.
The invited speakers include T. Jackie Cuevas, Assistant Professor at the University of Texas at San Antonio. Her research focuses on questions of gender and sexuality in Latina/o literature. Her most recent publication, Post-Borderlandia: Chicana Literature and Gender Variant Critique, includes a chapter on Chicana masculinity. Our other invited speaker, South Texas writer Joe Jimenez, is the author of The Possibilities of Mud (Kórima 2014) and Bloodline, a young adult novel (Arte Público 2016). Jiménez is the recipient of the 2016 Letras Latinas/ Red Hen Press Poetry Prize and holds an MFA in Creative Writing from Antioch University Los Angeles. His creative work focuses in part on navigating queer desire in the hyper-masculine space of Chicana/o communities.
There are no upcoming events at this time. Check back soon!