Skip to main content
In Memoriam - Glyn Salton-Cox
In Memoriam – Glyn Salton-Cox
The English Department is devastated to announce the death over the New Year of our colleague Glyn Salton-Cox.  To his family, loved ones, and friends here, in his native Britain, and throughout the world, we offer our deepest and most heartfelt condolences.  Glyn was a brilliant scholar, a very popular teacher, and the kindest of colleagues.  Memorials are being planned; details will be posted as soon as they become available.
2023.01
Cheryl Lousley Talk
"Untimely Worlds, Earthly Hearings: Public Hearing Testimonials and the World Commission on Environment and Development"
12:00 pm
Talk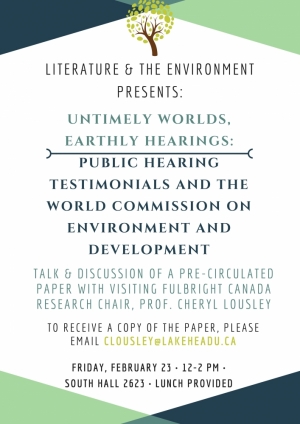 To RSVP and receive a copy of the paper, please contact Jeremy Chow (jchow00@umail.ucsb.edu(link sends e-mail)). And questions about the event or the scope of the project can be directed to Prof. Lousley (clousley@lakeheadu.ca(link sends e-mail)).