Skip to main content
In Memoriam - Glyn Salton-Cox
In Memoriam – Glyn Salton-Cox
The English Department is devastated to announce the death over the New Year of our colleague Glyn Salton-Cox.  To his family, loved ones, and friends here, in his native Britain, and throughout the world, we offer our deepest and most heartfelt condolences.  Glyn was a brilliant scholar, a very popular teacher, and the kindest of colleagues.  Memorials are being planned; details will be posted as soon as they become available.
2023.01
Silvia Federici Talk
"Globalization, Capital Accumulation, and Violence Against Women: An International and Historical Perspective"
3:00 pm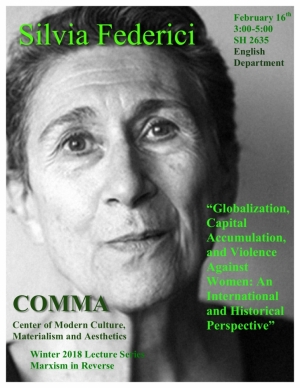 Silvia Federici is an internationally recognized feminist philosopher and activist, and one of the most important political theorists today. She is one of the founders of the Network for Wages for Housework, and the author, among many other books, of Caliban and the Witch.
"Marxism in Reverse" Series, Meeting 8.