Skip to main content
Welcome to the new website!
Welcome to the new-and-improved English department website!
Please "pardon our dust" as a few new pages remain under construction:
People > In Memoriam and  People > PhD Alumni
Research > Projects
Our search function is also being refined – putting quotation marks around your query "like this" will get you the best results.
Please email web-editor@english.ucsb.edu with any questions about site content or navigation (expect replies within one week of inquiry).
Email:

ritaraley@protonmail.com

Mailing Address:

English Department UC Santa Barbara Santa Barbara, CA 93106-3170
Rita Raley is Professor of English, with courtesy appointments in Film and Media Studies, Comparative Literature, and Global Studies. Her primary research interests lie at the intersection of digital media and humanist inquiry, with a particular emphasis on cultural critique, artistic practices, language, and textuality. She is the author of Tactical Media (University of Minnesota, 2009), co-editor of the Electronic Literature Collection, Volume 2 (2011), and has more recently published articles on interventionist media arts practices, digital poetics, and global English. She has had fellowship appointments at the National Humanities Center and UCLA, as part of the Mellon-funded project on the Digital Humanities, and has taught at Rice and the University of Minnesota. In Spring 2011 she held a short-term Fulbright appointment with "ELMCIP: Electronic Literature as a Model of Creativity and Innovation in Practice" at the University of Bergen, Norway; and in December 2011 she was a writer in residence hosted by the Dutch Foundation for Literature in Amsterdam. In 2012-2013 she was a visiting Associate Professor in English at NYU. She co-edits the "Electronic Mediations" book series for the University of Minnesota Press and is an Associate Editor for ASAP/Journal.
Selected administrative experience: Vice-Chair, Academic Senate (2020-2021 UC Humanities Research Institute Advisory Committee (2015-2018); Chair, UCSB Program Review Panel (2015-2017 [member and vice-chair, 2013-2015]); Chair, UCSB Graduate Council (2011-2012); UC Coordinating Committee on Graduate Affairs (2011-2012); IHC Advisory Board (2005-2008).
Research Areas
c. 1945-present
Global Literatures
Media Studies
Science and Technology Studies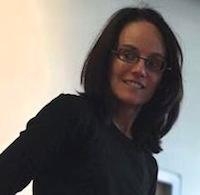 Office:

South Hall 2703

Email:

ritaraley@protonmail.com

Mailing Address:

English Department UC Santa Barbara Santa Barbara, CA 93106-3170
Selected Articles & Chapters

"Does AI Have a Future?", with Russell Samolsky, Understanding Flusser, Understanding Modernism (Bloomsbury 2021, forthcoming)

"Playing With Unicorns: AI Dungeon and Citizen NLP," with Minh Hua, Digital Humanities Quarterly 14.4 (2020)

"Out of Control," symplokē 28:1-2 (2020)

"50% Laughter, 50% Despair: A Dialogue with Jarett Kobek," ASAP/Journal 5:3 (2020)

"Red Dot Sight," with Colin Milburn, The Routledge Companion to Media and Risk, eds. Bishnupriya Ghosh and Bhaskar Sarkar (Routledge 2020)

Selected Editorial Work

With Paul Benzon, co-edited special issue of ASAP/Journal on "New Inscriptions: Writing in the Expanded Field" (in progress, slated for 2022)

With Christine Mitchell, co-edited special issue of Amodern on "Translation-Machination" (2018)

With Louise Amoore, co-edited special issue of Security Dialogue on "Securing with algorithms: Knowledge, decision, sovereignty" (2017)

Editor: "Writing.3D," The Iowa Review Web (September 2006)

Selected reviews, responses, interviews, short-form publications

"Delete Your Accounts" (review of Jaron Lanier), American Book Review (2019)

The Dark Side of the Digital Humanities (MLA 2013), in Debates in the Digital Humanities 2016 (U Minnesota)

"Tactical Humanities": interview with Roy Christopher (October 2017)

Projects, Initiatives, and Grants

Cross-institutional reading project: The Familiar, Volume 1 (Winter 2015)

Humanist Enterprises: Institutions, Practices, Media (Scalar, 2013) [no public link]
Selected Lectures
Courses Taught
Quarter

Course #

Title