Skip to main content
In Memoriam – Glyn Salton-Cox
The English Department is devastated to announce the death over the New Year of our colleague Glyn Salton-Cox.  To his family, loved ones, and friends here, in his native Britain, and throughout the world, we offer our deepest and most heartfelt condolences.  Glyn was a brilliant scholar, a very popular teacher, and the kindest of colleagues.
The Department of English invites you to a commemoration of our colleague Glyn Salton-Cox on Friday, March 3d, 2023.
We will gather in the Faculty Club's Betty Elings Wells Pavilion at 3:00 pm and then move to the Terrace at 4:00 pm for a reception. Please let us know of any accessibility requests.
2023.02
Email:

ritaraley@protonmail.com

Mailing Address:

English Department UC Santa Barbara Santa Barbara, CA 93106-3170
Rita Raley is Professor of English, with courtesy appointments in Film and Media Studies, Comparative Literature, and Global Studies. Her research and teaching focuses on digital media as both subject and object of humanities inquiry, with an emphasis on cultural critique, artistic practices, and global formations. One thread that extends throughout her work concerns the relations between language and technology, which began with analyses of Global English, machine translation, codework, and electronic literature and has most recently led to publications focusing on GPT-2 and generative AI. Another thread focuses on art-activist, tactical, participatory, appropriative, or otherwise hands-on engagement with sociotechnical systems—which means, most recently, what people are doing with large language models. Her current collaborative projects work within, and toward, Critical Machine Learning and "Critical AI."
In addition to previous teaching positions at the University of Minnesota, Rice, and NYU, she has held fellowship and short-term residency appointments hosted by the National Humanities Center; the University of Bergen, Norway; the Dutch Foundation for Literature in Amsterdam; and UCLA, the last as part of a Mellon-funded project on the Digital Humanities. She co-edits the "Electronic Mediations" book series for the University of Minnesota Press and is an Associate Editor for ASAP/Journal.
Selected administrative experience: Vice-Chair, Academic Senate (2020-2022; 2023-2024); Systemwide Library and Scholarly Information Advisory Committee (2020-2024); UC Humanities Research Institute Advisory Committee (2015-2018); Chair, UCSB Program Review Panel (2015-2017 [member and vice-chair, 2013-2015]); Chair, UCSB Graduate Council (2011-2012); UC Coordinating Committee on Graduate Affairs (2011-2012); IHC Advisory Board (2005-2008).
Research Areas
c. 1945-present
Digital Humanities
Global Literatures
Media Studies
Science and Technology Studies
Research Center Affiliations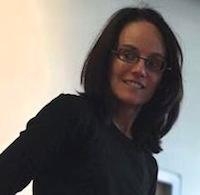 Office:

South Hall 2703

Office Hours:

Fall term: Thursdays, 11:00-1:00 and by appt

Email:

ritaraley@protonmail.com

Mailing Address:

English Department UC Santa Barbara Santa Barbara, CA 93106-3170
Selected articles & chapters

"Representation-Simulation-Generation," Informatics of Domination, eds. Zach Blas, Melody Jue, and Jennifer Rhee (Duke UP, forthcoming)

"Borges and AI," Poetics Today (forthcoming)

"Rocket Theory," for Left Theory and the Alt-Right, with Russell Samolsky (2023)

"How to Do Things with Deep Learning Code," with Minh Hua, Digital Humanities Quarterly special issue on Critical Code Studies (2023) [arXiv preprint]

"Critical AI: A Field in Formation," with Jennifer Rhee, American Literature 95:2 (2023)

Download PDF (427.99 KB)

"K-streams: Global Korea and the OTT Era," with Eunjin Choi, Post45: Contemporaries, special issue on the "Hallyu Project" (2023)

"Translation Degree Zero," Time, Space, Matter in Translation, eds. Pamela Beattie, Simona Bertacco, and Tatjana Soldat-Jaffe (2022)

"Does AI Have a Future?", with Russell Samolsky, Understanding Flusser, Understanding Modernism (2021)

"Playing With Unicorns: AI Dungeon and Citizen NLP," with Minh Hua, Digital Humanities Quarterly 14.4 (2020)

"Out of Control," symplokē 28:1-2 (2020)

Download PDF (172.81 KB)

"Red Dot Sight," with Colin Milburn, The Routledge Companion to Media and Risk, eds. Bishnupriya Ghosh and Bhaskar Sarkar (2020)

"Inter Alia: Aliens and AI," with Russell Samolsky, Public 59 (2019)

"Algorithmic Translations," CR: The New Centennial Review (2016)

"The Ordinary Arts of Political Activism," Global Activism: Art and Conflict in the 21st Century, ed. Peter Weibel (2015)

"Digital Humanities for the Next Five Minutes," differences (2014)

"Dataveillance and Countervailance," "Raw Data" Is an Oxymoron, ed. Lisa Gitelman (2013)

"TXTual Practice," Comparative Textual Media, eds. N. Katherine Hayles and Jessica Pressman (2013)

"Another Kind of Global English," minnesota review (2012)

"'Living Letterforms': The Ecological Turn in Contemporary Digital Poetics," Contemporary Literature (2011)

"Walk This Way: Mobile Narrative as Composed Experience," Beyond the Screen, eds. Jörgen Schäfer and Peter Gendolla (2010)

"Mobile Media Poetics," Digital Arts and Culture (2009)

"List(en)ing Post," Literary Art in Digital Performance, ed. Francisco Ricardo (2009)

"Code.surface || Code.depth," dichtung-digital (2007)

"eEmpires," Cultural Critique 57 (2004)

"Machine Translation and Global English," The Yale Journal of Criticism (2003)

"Reveal Codes: Hypertext and Performance," Postmodern Culture (2001)

"A Teleology of Letters; or, From a 'Common Source' to a Common Language," Romantic Circles (2000)

"Cadmus Britannicus: Between Language and literature in British India," ARIEL: A Review of International English Literature (2000)

Selected editorial work

With Jennifer Rhee, co-edited special issue of American Literature on "Critical AI" (2023)

Download PDF (766.35 KB)

With Paul Benzon, co-edited special issue of ASAP/Journal on "Inscriptive Studies" (2022)

Download PDF (430.30 KB)

With Christine Mitchell, co-edited special issue of Amodern on "Translation-Machination" (2018)

With Louise Amoore, co-edited special issue of Security Dialogue on "Securing with algorithms: Knowledge, decision, sovereignty" (2017)

Editor: "Writing.3D," The Iowa Review Web (September 2006) [introduction]

Selected interviews & dialogues

Interview with Squid Game production designer Chae Kyoung-sun (Carsey-Wolf Center Global TV series, 2022)

"50% Laughter, 50% Despair: A Dialogue with Jarett Kobek," ASAP/Journal 5:3 (2020)

"Love.abz and the Task of the Machine Translator" (interview with Otso Huopaniemi), Amodern (2018)

"Tactical Humanities": interview with Roy Christopher (2017)

Dialogue with John Cayley for "white cube blue sky" (2005)

"Of Dolls and Monsters: An Interview with Shelley Jackson," The Iowa Review Web (2002)

Selected reviews, responses, short-form publications

"Against AI?" (with Russell Samolsky), for Critical Inquiry online, Again Theory: A Forum on Language, Meaning, and Intent in the Time of Stochastic Parrots (2023)

The Book: 101 Definitions, ed. Amaranth Borsuk (Anteism, 2021)

"Delete Your Accounts" (review of Jaron Lanier), American Book Review (2019)

The Dark Side of the Digital Humanities (MLA 2013), in Debates in the Digital Humanities 2016 (U Minnesota)

"Outsourced Poetics" (review of Nick Thurston), American Book Review (2014)

"Hypermarks Revisited," "Rough Cuts: Media and Design in Process," MediaCommons: The New Everyday (2012)

Selected projects, initiatives, and grants

Critical Machine Learning Studies, with Fabian Offert, UCHRI working group (2021-2023)

Reading and Attention, Arnhold Undergraduate Research Project (2019)

Cross-institutional reading project: The Familiar, Volume 1 (Winter 2015) [review of The Familiar in LARB, June 2015]

Prototyping Futures/Occupying the Present (Piet Zwart Institute, 2015)

Humanist Enterprises: Institutions, Practices, Media (Scalar, 2013) [no public link]

Speculative Globalities (UCHRI, 2009)

Archived courses

Machine Reading & Writing (Fall 2016)

Media Theory of/for the Present (Winter 2016)

Distracted Reading (Spring 2015)

Bookwork after New Media (Spring 2012)

Narratives of War (Winter 2012)

Literature & Biotechnology (Winter 2011)

Social Media (Winter 2010)

Selected Lectures

Courses Taught

Quarter

Course #

Title