Skip to main content
In Memoriam - Glyn Salton-Cox
In Memoriam – Glyn Salton-Cox
The English Department is devastated to announce the death over the New Year of our colleague Glyn Salton-Cox.  To his family, loved ones, and friends here, in his native Britain, and throughout the world, we offer our deepest and most heartfelt condolences.  Glyn was a brilliant scholar, a very popular teacher, and the kindest of colleagues.  Memorials are being planned; details will be posted as soon as they become available.
2023.01
Amrah Salomón J.
Assistant Professor
Fax:

(805) 893-4622

Mailing Address:

English Department UC Santa Barbara Santa Barbara, CA 93106-3170
Education:
Ph.D. Ethnic Studies, University of California San Diego
M.A. Ethnic Studies, University of California San Diego
B.A. Political Science and English (Creative Writing), San Francisco State University
Amrah Salomón J. is an Assistant Professor of English at the University of California Santa Barbara. She is an activist, educator, and writer of mixed ancestry (Akimel O'odham and Tohono O'odham descendant, Mexican, and European). Dr. Salomón J. is the founding director of the Regeneración Lab: Abolition, Liberation, Decolonization, Autonomía, & Autogestión and is a member of the interdisciplinary UCSB American Indian and Indigenous Collective research initiative. Her research and teaching interests focus on transnational and hemispheric Indigenous Studies, the U.S.-Mexico border, Mexican and Latin American Social Movements, Women of Color, Indigenous Feminisms, Queer Theory, Critical Geography, Law and Policy, Archival Methods, Memory, Non-Western and Indigenous Political Thought, Anticolonialism, Film and Media, Popular Culture, and Activism. She is a 2020-2021 University of California President's Postdoctoral Fellow in English at UC Riverside and completed a Ph.D. in Ethnic Studies at the University of California San Diego in 2019. Dr. Salomón J. founded and directed the UCSD Community and Labor Project, co-founded the Native American youth performance project Rez Beats, is a member of the Center for Interdisciplinary Environmental Justice (http://www.the-ciej.org) and the O'odham Anti-Border Collective. Dr. Salomón J. is currently working on various community-based digital humanities projects, including Reclaiming Homelands: Mapping Indigenous Place Names of North San Diego County, funded by the University of California Critical Mission Studies Initiative. Dr. Salomón J. has received a Ford Foundation Dissertation Fellowship, a Davis-Putter Fellowship, and has been recognized by the Alliance 4 Empowerment for the social impact of her work. In 2015 she was awarded the UCSD University Wide Equal Opportunity/Affirmative Action & Diversity Award for her teaching and mentorship. She enjoys critical pedagogy, participatory teaching practices, and mentoring students in all genres of creative writing and literature in English, Spanish, and Indigenous languages.
Dr. Salomón J.'s academic work has been published in Science for the People Magazine, The Critical Ethnic Studies Association Journal Blog, Chicana/Latina Studies Journal, and a critically acclaimed chapter on the use of social justice narratives in Research Justice: Methodologies for Social Change (Policy Press 2015). Dr. Salomón J. is a multi-lingual poet, playwright, and essayist whose creative work has been published in the U.S., Mexico, and U.K. Her current book project examines the history of non-federally recognized Indigenous laborers on the U.S.-Mexico border, Indigenous descendant poetics, and the formation of an Indigenous border analysis through a critique of the overlapping transfigurations of Spanish and U.S. colonialism on Indigenous lands. She employs methodologies that range from archival analysis, critical geography, ecomemory, literary poetics and discourse analysis, oral history, and Indigenous feminist theory to flesh speculative histories, theorize Indigenous descendant relationships to fire, water, land, and consider abolitionist decolonial futurities.
Visit her personal website at http://www.amrahsalomon.com.
Research Areas
c. 1800-1945
c. 1945-present
American Literature
Digital Humanities
Environment and Ecocriticism
Genders and Sexualities
Global Literatures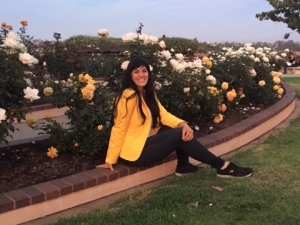 Office:

SH 2523

Fax:

(805) 893-4622

Mailing Address:

English Department UC Santa Barbara Santa Barbara, CA 93106-3170
Courses Taught
Quarter

Course #

Title