Skip to main content
In Memoriam - Glyn Salton-Cox
In Memoriam – Glyn Salton-Cox
The English Department is devastated to announce the death over the New Year of our colleague Glyn Salton-Cox.  To his family, loved ones, and friends here, in his native Britain, and throughout the world, we offer our deepest and most heartfelt condolences.  Glyn was a brilliant scholar, a very popular teacher, and the kindest of colleagues.  Memorials are being planned; details will be posted as soon as they become available.
2023.01
R "Baker" Baker
Graduate Student
Email:

rrbaker@ucsb.edu

Mailing Address:

English Department UC Santa Barbara Santa Barbara, CA 93106-3170
R Baker is an English PhD student at the University of California, Santa Barbara.  They are broadly interested in cultural constructions of scientific discourses – including science fiction – with a focus on space travel/colonization, speculative world building, and the alien. Their work is situated at the intersections of Feminist Science and Technology Studies, Environmental Humanities, and Critical Infrastructure Studies, with an emphasis on decolonial politics, marginal voices, and the biological/technological turn in our cultural understanding of the human.
Baker's work is currently centered on popular and science fictional representations of space travel, colonization, and exploration spanning from early 20th century speculative science fiction to futurologist projections into and beyond the current era.
Research Areas
American Literature
Environment and Ecocriticism
Research Center Affiliations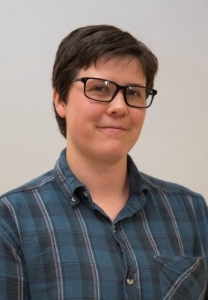 Email:

rrbaker@ucsb.edu

Mailing Address:

English Department UC Santa Barbara Santa Barbara, CA 93106-3170