Skip to main content
In Memoriam – Glyn Salton-Cox
The English Department is devastated to announce the death over the New Year of our colleague Glyn Salton-Cox.  To his family, loved ones, and friends here, in his native Britain, and throughout the world, we offer our deepest and most heartfelt condolences.  Glyn was a brilliant scholar, a very popular teacher, and the kindest of colleagues.
The Department of English invites you to a commemoration of our colleague Glyn Salton-Cox on Friday, March 3d, 2023.
We will gather in the Faculty Club's Betty Elings Wells Pavilion at 3:00 pm and then move to the Terrace at 4:00 pm for a reception. Please let us know of any accessibility requests.
2023.02
Sacrifice Your Love
Psychoanalysis, Historicism, Chaucer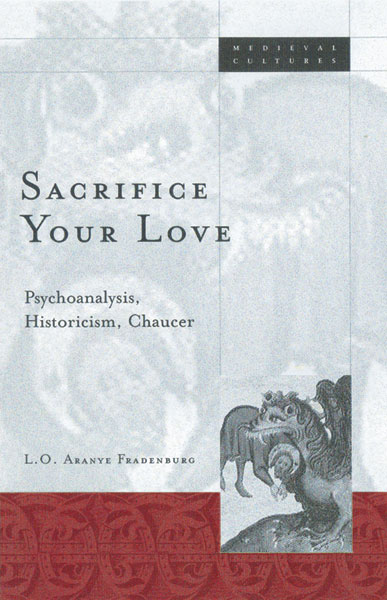 A long-awaited reevaluation of Chaucer through the lens of sacrifice by a major figure in medieval studies.
Historicism and its discontents have long been central to the work of Louise Fradenburg, one of the world's most original and provocative literary medievalists. Sacrifice Your Love brings this interest to bear on Chaucer's writing and his world, rethought in light of a theory of sacrifice and its part in cultural production. Fradenburg writes the "history of the signifier" – a way of reading change in the symbolic order – and its role in making sacrifice enjoyable.
Sacrifice Your Love develops the idea that sacrifice is a mode of enjoyment-that our willingness to sacrifice our desire is actually a way of pursuing it. Fradenburg considers the implications of this idea for various problems important in medieval studies today – how to understand the religiosity of cultural forms, particularly chivalry, in the later Middle Ages and how to understand the ethics of Chaucer's famously nondidactic poetry – as well as in other fields of inquiry.
A major rethinking of Chaucer, Sacrifice Your Love works in depth as well as across a broad range of topics from medievalism to psychoanalysis, advancing both the theory and practice of a new kind of historicist approach. (From University of Minnesota Press)
Purchase
Citation Information
City of Publication:

Minneapolis, MN

Publisher:

University of Minnesota Press

Publication Date:

2001