Skip to main content
In Memoriam – Glyn Salton-Cox
The English Department is devastated to announce the death over the New Year of our colleague Glyn Salton-Cox.  To his family, loved ones, and friends here, in his native Britain, and throughout the world, we offer our deepest and most heartfelt condolences.  Glyn was a brilliant scholar, a very popular teacher, and the kindest of colleagues.
The Department of English invites you to a commemoration of our colleague Glyn Salton-Cox on Friday, March 3d, 2023.
We will gather in the Faculty Club's Betty Elings Wells Pavilion at 3:00 pm and then move to the Terrace at 4:00 pm for a reception. Please let us know of any accessibility requests.
2023.02
City, Marriage, Tournament
Arts of Rule in Late Medieval Scotland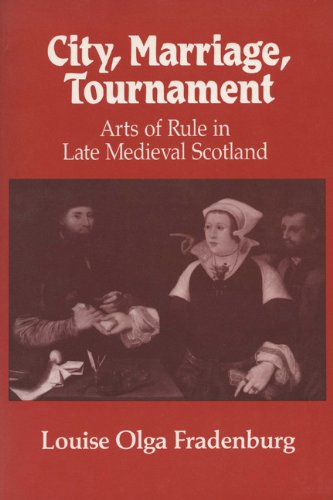 The "theater of political power" is a familiar phenomenon in the twentieth century, but it is by no means a new one. How was statecraft performed five centuries ago? In City, Marriage, Tournament, Louise Fradenburg shows us the evolution of these arts of rule by examining the reigns of James III and James IV of Scotland, revealing in the process the fascinating political and artistic culture of late medieval Scotland.
As the title suggests, Fradenburg develops her theme in three strands. "City" explores the investiture of Edinburgh by James III as his capital and citadel of power. Fradenburg's analysis of texts and events – a unique blend of literary, psychoanalytic, historical, anthropological, and feminist scholarship – traces Edinburgh's emergence as a sovereign site of national politics and factional struggle. "Marriage" centers on the wedding of James IV to Margaret Tudor in 1503 and on contemporary accounts of the event. This section of the book also traces the marriage metaphor popular in medieval and Renaissance Europe and analyzes the real and symbolic roles of queenship in the sovereign's search for the love of his or her subjects. Finally, "Tournament" focuses on James IV's 1507 tournament of the wild knight and the black lady as a model of medieval chivalric pageantry. Fradenburg shows how honor, valor, daring, violence, and war were used by medieval sovereigns to make themselves ideal objects of aristocratic loyalty.
The vast tapestry of City, Marriage, Tournament depicts an entire culture through its court poetry, royal charters, accounts of bridal progressions, treatises on knighthood, and other previously unexamined texts, revealing the broad spectacle of a late medieval court on the brink of the Renaissance. (From University of Wisconsin Press)
Purchase
Citation Information
City of Publication:

Madison, WI

Publisher:

Universtiy of Wisconsin Press

Publication Date:

1990