Skip to main content
In Memoriam – Glyn Salton-Cox
The English Department is devastated to announce the death over the New Year of our colleague Glyn Salton-Cox.  To his family, loved ones, and friends here, in his native Britain, and throughout the world, we offer our deepest and most heartfelt condolences.  Glyn was a brilliant scholar, a very popular teacher, and the kindest of colleagues.
The Department of English invites you to a commemoration of our colleague Glyn Salton-Cox on Friday, March 3d, 2023.
We will gather in the Faculty Club's Betty Elings Wells Pavilion at 3:00 pm and then move to the Terrace at 4:00 pm for a reception. Please let us know of any accessibility requests.
2023.02
The Incarnate Text
Imagining the Book in Reformation England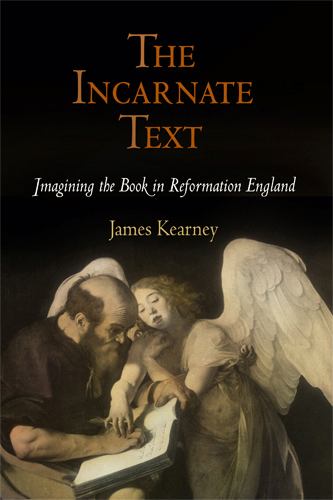 In the course of the Reformation, artistic representation famously came under attack. Statues were destroyed, music and theater were forbidden, and poetry was denounced, all in the name of eradicating superstition and idolatry. The iconoclastic impulse that sparked these attacks, however, proved remarkably productive, generating a profusion of theological, polemical, and literary writing from Catholics and Protestants alike.
Reformers like Luther had promised a return to the book, attacking Catholicism as a religion of images and icons. Becoming a religion of the book in the way that Reformers proposed, however, proved impossible: language is inescapably material; books are necessarily things, objects that are seen and touched. The antitheses at the heart of this opposition – word versus thing, text versus image – have had far-reaching effects on the modern world.
James Kearney engages with recent work in the history of the book and the history of religion to investigate the crisis of the book occasioned by the Reformation's simultaneous faith in text and distrust of material forms. Drawing in a wide range of topics – from humanism and hermeneutics to secularization and enlightenment, from iconoclasm and anti-Semitism to barbarism and fetishism – and looking to a range of texts – including Erasmus's Jerome, Spenser's Faerie Queene, and Shakespeare's Tempest –The Incarnate Text tells the story of how this crisis of the book helped to change the way the modern world apprehends both texts and things.
Purchase
Citation Information
Full Title:

The Incarnate Text: Imagining the Book in Reformation England

City of Publication:

Philadelphia

Publisher:

University of Pennsylvania Press

Publication Date:

2008